Major Swiftspeed Appcreator Platform Update 2021
This major platform update should have come earlier but was delayed by many factors. Oh well, it is finally here; we have made many native updates to our platform; therefore, you will have to regenerate your app to continue seeing your app working seamlessly. Here are the changes we made.
PLAN & PRICING
We are notifying you about the slight changes we made in our plan and pricing.
FREE PLAN: Still available but only limited to 10 features, Android platform and cannot be monetized, please see here for full detail
PAID PLAN: Subscription is now available monthly for just $10USD or $59USD per year. You have access to most developer features and can monetize your app with this app. full details here.
WHITE LABEL PLAN: Subscription is now available on a monthly subscription of $15USD or $109USD per year; see full details here.
NEW FEATURES IN PLATFORM UPDATE
E-WALLET (Available to only Paid Plan & white-label user)
This feature is a digital wallet, or Mobile Wallets refers to an electronic device that allows an individual to make online transactions. E-Wallet module allows you to add money to your Wallet through options like Stripe, PayPal in the most convenient manner.
The E-wallet feature has been updated. You can now link it to your commerce shop and allow your user to pay from their wallet. Also, E-wallet users can now fund their wallet using Razorpay, Paypal, and Stripes. The E-wallet feature is only available to Paid Users and White Label customers. feature unavailable on the free plan.
features include:
Transfer money user-to-user through QR Code and email (in a wallet)
Pay to shop through QR Code.
Cashback promo code for add money to the wallet
Payment gateways Stripe and PayPal
Note: We will integrate other local payment gateways on demand.
Features List: 
Wallet Money :
This is a digital wallet or Mobile Wallets use in online shopping.
Customers can Pay to shop using a QR code(is created by admin), and money is transfer to the shop wallet (Not in any bank account).
Transfer to a Customer :
Customers can transfer wallet money to another customer wallet in the same app.
E-Wallet module does not allow the transfer of wallet amount in any bank account.
QR CODE :
QR code is used to transfer a wallet amount to another Customer or Shop Wallet. Without entering any email id or Code.
The purpose of the QR Code is easy to use.
STORE :
Create QR code for store and Customer can pay the amount using Wallet and money is transferred to Store wallet. Store wallet history is displayed in the backend (editor) section.
COMMERCE PRO FEATURE (Available to only white-label user)
Features
The multi-Purpose module can be used for Food, Shop, Catalog, Classified, QR menu, Table Service, and many scenarios just by changing settings, labels, etc.
Driver Tracking for order, Integrated with Questtag.com
Simple

 

Stock Management

 

– if you enable stock checking from settings, your user can't order unless the product is there in stock and stock is automatically reduced on every order.
Min Quantity for Order – You can set the minimum quantity for a new order on the product edit page; users see a warning when they try to place an order with

 

less

 

than the product's minimum quantity.
Max Quantity for Order – You can set the maximum quantity for new orders on the product edit page; users see a warning when they try to place orders with

 

more

 

than the product's max quantity.
Trigger action on new Orders using

 

Webhook

 

– You can send order data to excel sheet/CRM/SMS or any other service provided by Zapier. You need

 

Webhook Module

 

to use this.
Shipping charges are based on users' address/ store address distance radius; store owner can add

 

multiple radius range and charges.
Store wise Listing – Show products based on store, can be used if you have multiple restaurants.
Show stores on the map
See all the products available in-store, useful for a chain of restaurants.
Delivery date/time slot selection on checkout
Settings for showing the first page on commerce pro – Product  Listing Page, Category Wise List Page, Store Wise Listing Page
Awesome UI and Improve UI in Store Wise Listing and list nearest stores/restaurant by location; enable this Design from Settings Tab.
Table Service as Delivery – takes Table Number as Input when enabled can be changed to Umbrella Number or anything else.
Integrated with [Marketplace Add-on] 

 

allows users to create their own store and manage products/orders from the app itself, and the user will be able to see multiple stores listing in the commerce pro module
Integrated with

 

Social Network Module

 

to allow

 

buyer/seller Chat
QR menu

 

allows the user to scan QR code, and then the user is redirected to the respective store menu.
With this feature, you can add multiple instances of the Commerce Pro module to the same app.
Options to change labels of important so that you can use them for

 

restaurant, catalog, ads, places, or just any listing
Option to Enable /Disable Shopping Cart functionality to use for other purposes like catalog etc
Multiple Payment Collection Mode – Capture Payment to Store Owner Account or App Owner Account
Translation included for all the warnings for stock/quantity check or any other error /label.
Payment Gateways Supported – Cash/ Paypal / Stripe / Bank Transfer / eWallet /Meal Voucher
Delivery Methods  Support  – In-Store / Carry Out /Shipping / Table Service
Upcoming in a future version – Coming soon
Many UI improvements
We have plans to add many more features to this module; we will keep adding more to this list as we complete
Local Payment gateways based on request
Screenshots From Demo App :
MARKET PLACE FEATURE (Available to only white-label user)
Now you can create your Own Marketplace App.
Marketplace module allows your user to create their own store from the app and then manage their own products, orders, etc.
Features
Native module for clients to manage everything from the app itself
Manage  orders, add/edit products, delivery radio-us, payment gateway, store info, etc
Setting to Link any Commerce Pro module added in App.
It can be used to manage a store, ads, catalog, etc., as you can change all objects' labels.
Multiple instances of the Marketplace feature can be added to a single App.
The store can be created, and anyone in the app can update products, but it will be published after approval by commerce pro admin.
Completely translated
The store created and products, orders, etc., are synced with the Commerce Pro module connected so the App owner can manage all the stores from the Commerce Pro Feature editor.
CABRIDE FEATURE (Available to the only white-label user)
Let drivers register through your app (or not)
The app offers two registration processes, one for drivers and one for users.
Once accepted, a driver can go online or offline.
If online, the driver is warned by a notification that a passenger has requested a ride.
Create your own taxi business
Whether you are managing your own fleet from one to hundreds of taxis, or you want to offer a service of passengers driving in your city, everything you need is offered in this app:
Drivers management
Passengers
Payment methods (Credit card and/or Cash)
Vehicle types
Requests status
Accountancy, manage your cash returns & payouts.
And much more.
A quick and pleasant experience for passengers
Passengers can book a taxi in a few seconds. IN THE NEW Platform Update.
They have to open the app, enter their course pick-up & drop-off and choose from the available vehicle types.
All corresponding drivers in the radius you have defined can answer within the response time you have set.
Once at least a driver has accepted the ride, the passenger will be informed, and the driver will be on his way.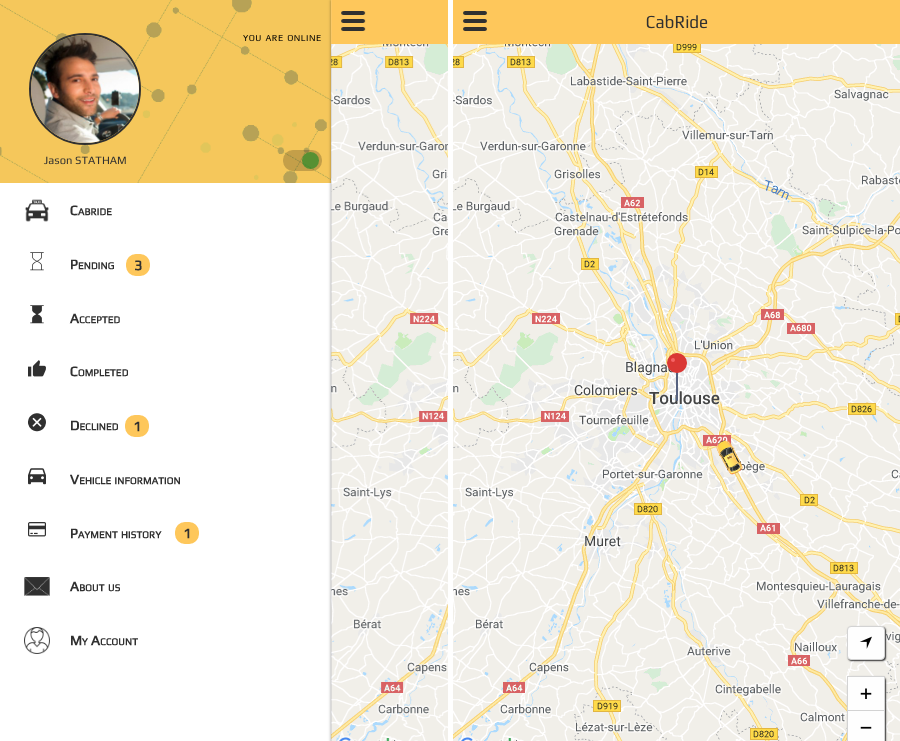 If you are on the free plan, you can log in to your dashboard, cancel your current subscription to see available upgrade options or buy these plans. White-Label & Paid Plan.
MAJOR CHANGES FOR DEVELOPERS
APPS > IOS/ANDROID ADMOB
Updates AdMob to the latest SDK:
– Using WKWebView for iOS (UIWebView was previously used).
– Removed all global Admob settings in backoffice & plans.
– Due to changes in AdMob SDK, you must now use app settings only.
– Allows app admin to enable Test Ads during development/build stage to prevent any abusive and/or mis-click on live apps.
– Adding ads tracking consent modal for iOS 14+ devices.
Note: for AdMob to work, apps/sources now require the AdMob app identifier for every application.
FEATURES DEPRECATION
Complete removal ofFolder v1&WordPress v1support inside apps & editor.
IMPROVEMENTS
APPS > IOS/ANDROID ADMOB
Increased native version to 19 to prevent unwanted native updates.
FORMS
Developers
Improves support forFileInputinside forms & editor.

DEBUG
APPS > ANDROID – IOS
Fixes incorrect native version, not preventing the app to auto-update in the background when enabled.
APPS > IOS 14+
Fixes iOS viewport not fitting whole screen on app start on iOS 14+.
IMPROVEMENTS
FEATURE > MY ACCOUNT
My account modal now uses the same back icon asset in the application.
FEATURE > CONTACT
Adds an option to hide the locate button/action.
FEATURE > PLACES
Adds an option to hide a location on the map.
FEATURE > EVENT/CALENDAR
Adds an action to duplicate a custom event.
It makes the end date/time optional; leaving fields blank will remove them from the app.
Added More Languages
Dutch
Greek
Catalan
Czech
Best Regards
The Swiftspeed Appcreator Team